Happy Cleaners describes love and tribulations of Korean Americans barely making it in the big city | By Song-Un Lee (Winter 2021 issue)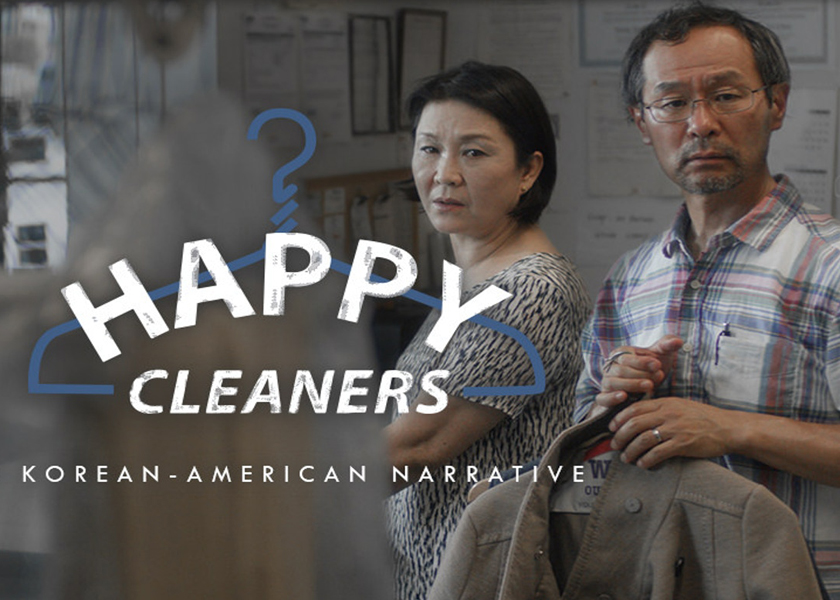 We'll look back in 2021 as a historic year when, not one, but two distinct Korean-American films were released (Minari and Happy Cleaners), both on February 12 (Lunar New year). Both dramas examine the struggles of the Korean American immigrant family experience. Minari (review here) is about a Korean American family with two kids, who start a farm in rural Arkansas. It takes place in the early-stage of the immigrant journey (1980s) when conflicts and anxiety within the family does not overshadow the sense of hope and optimism. Happy Cleaners, about another Korean American family, is set in contemporary New York City. The children are in their late teens and early 20s, the parents are older and tired, and deep resentments and dysfunction, brought on by years of setbacks, have overshadowed whatever optimism and dreams the family might have had at the start of their journey.
Happy Cleaners definitely draws on the Korean concept of han. A term for a uniquely Korean emotion, it encompasses sadness, suffering, and hardship the nation has experienced throughout its long history. As recently as the previous century, Korea was invaded and colonized by the Japanese and not long after the liberation from Japan at the end of WW II, the country was divided up by the victorious allies such as the U.S. and Russia. This was shortly followed by the Korean War and the nation has remained divided ever since.
All countries go through hardships and sufferings in varying degrees but han is suffering and depression that we Korean people, in a masochistic way, embrace as part of our identity. Happy Cleaners is awash in this kind of resignation of one's fate, that the state of simmering anger and resentment must be borne throughout one's life.
Fittingly, during a Minari post-screening discussion, actor Sandra Oh, the moderator, also brought up the han concept, not as Koreans but as experienced by Korean-Americans. She recalls observing filmmaker Joon Ho Bong making the international rounds last year leading up to the Oscars' Best Picture win for his much-decorated film Parasite. She remarked how she was struck by director Bong's assured presence during these media events, and of how jovial, natural, and comfortable in his skin he appeared. She took note of this Korean man's lack of self-consciousness of his Korean identity.
She contrasted that with her Korean-American experience and the sense of not quite belonging, feeling of not being "seen" by the mainstream society and the sadness that comes with that experience of isolation and invisibility. Perhaps she's onto something. Han has roots in the motherland, but the Korean-American han is exceptional and unique in its own way.
Which brings us to the ironically titled Happy Cleaners. It's a contemporary drama about a Korean-American family running a dry cleaner in Flushing, a neighborhood in Queens, New York City. The family consists of dad (Charles Ryu), mom (Hyang-hwa Lim), daughter Hyunny (Yeena Sung) and younger son Kevin (Yun Jeong). Hyunny is a nurse with an even-keeled personality, who keeps the family from spinning out of control and happily offers financial support to her struggling parents. Kevin is a rebellious college drop-out who resents his parents' lack of success in, ostensibly, this land of opportunity, and hopes to move to Los Angeles and run his own food truck business. The father is a beaten-down man who encounters one setback after another with resigned acceptance. The mother resents her husband's lack of success and also worries about the bad choices her kids are making. Hyunny's boyfriend Danny (Donald Chang) is caring and loving, yet is struggling to make ends meet himself, and is unable to establish the stability for the future he wants to share with Hyunny. From the beginning, Korean-American han is strong with this film.
Prior to Happy Cleaners, directors Julian Kim and Peter S. Lee made a series of shorts entitled Flushing Web Series, produced by Swallowtail Studios, and like the name describes, the shorts depict slice-of-life stories set in Flushing. Kim and Lee also made a short, called Call Taxi, produced by Koreanamericanstory.org, the same organization that produced Happy Cleaners. Significantly, Call Taxi, about a chance encounter between a taxi driver and his son who called the taxi, stars the same actors from Happy Cleaners, Ryu and Jeong. The father-son dynamic in this short appears to have unofficially laid the groundwork for their expanded relationship in Happy Cleaners a few years later.
Like the Flushing Web Series and Call Taxi, which described a fully-realized world of Korean American culture in Flushing, Happy Cleaners feels lived-in and authentic. Along with Minari, Happy Cleaners is ushering in a new era, in which for the first time, feature-length Korean American films are being made by the second generation. In these films, the characters who were kids back then, describe their lives from the mental notes they made while watching their immigrant parents struggle to make a living in a new country.
The film has a strong sense of place and feels like a product of true NYC natives. They don't offer the cliché Empire State Building Manhattan skylines but firmly stay within the working-class neighborhood. The film does have some shortcomings of a debut feature, however. The writing in the first act sometimes feels expository and strained as characters and their relationships are introduced. Perhaps due to this, the acting felt uneven in the beginning as well. However, as the film settled in and the characters and the neighborhood of Flushing began to open up for the viewers, their struggles felt real and their small victories and emotional connections felt earned. The film especially does a wonderful job of navigating the cultural clash between the parents and their kids. Expanding the relationship dynamic from Call Taxi, there is resentment between father and son and yet the genuine love and the family bond feels poignant. The mother-daughter relationship narrative is equally beautiful and affecting. Hyunny, who takes on the role of the "good" daughter in contrast to the black sheep Kevin, puts on a strong, optimistic front as everyone around her seem desperate and barely staying afloat. Which is why when her strong façade cracks, and the emotion underneath spills out, it's heartbreaking. The blow-up scene between her and her mother is devastating as Hyunny is no longer able to differentiate herself from the drama that is her family's modus operandi and the father watches helplessly from the sideline as his family is unraveling.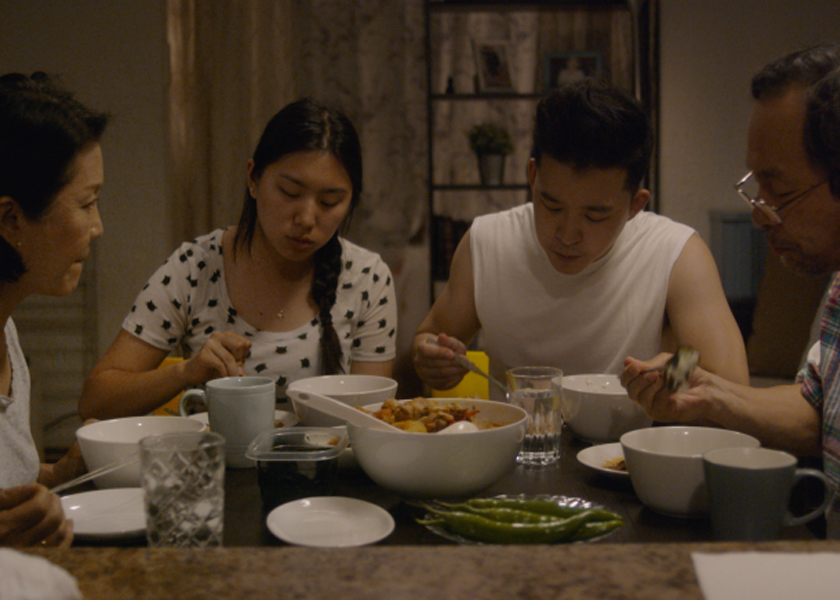 Although characters are often portrayed as angry and desperate, the Korean food in the film is shot like glamourous movie stars. Whatever the conflict, when the food comes out, everyone takes a moment to appreciate the sight and smell of the spicy chicken dori tang and array of colorful banchan (side dishes). In a lighthearted moment, Kevin's grandmother (Jaehee Wilder) makes mook (acorn jelly) rice for him. I felt genuine joy in watching mook rice being made and savored in an American film. Not just Korean food, the film makes it a point to celebrate homemade Korean food. The family has a running debate on how salty the food should be. In this and many other ways, the film really takes to heart the importance of food in bringing the family together. Even dad makes a spam, egg and rice breakfast for Hyunny and shares a brief moment of connection with her.
I also appreciate the depiction of the Korean-American church community in the film. During the nightly cash accounting time, mom and dad ensures enough is set aside for the church offering. When they need maintenance repairs, a fellow church member is called upon to fix the boiler at the dry cleaner. Father puts on a suit to attend Sunday worship to show respect for his God and, although unspoken, the suit also seems to give him a sense of self-respect as well.
Happy Cleaners is a wonderful achievement and, as with Minari, a great example of personal filmmaking. It's a pioneering film as it is one of the first contemporary Korean-American films that portrays the struggles, warts and all, and at the same time celebrates the love that endures within the dysfunctional immigrant family.
One big difference between Minari and Happy Cleaners is the time frame. Whereas Minari is about the beginning stage of the immigrant journey, during which the second-generation kids are in elementary school, the children of the immigrants in Happy Cleaners are young adults, and they are processing their Korean American identity in real time. They may resent their parents, yet even as they seek their independence, their maturity allows them to feel empathy for their parents and their struggles. The film is ultimately a celebration of the Korean American family in all its dysfunction, drama, struggles, food, love, and more food.
Here is a link to view the film:
https://koreanamericanstory.org/happy-cleaners/watch/#subpage-nav