Rep. Andy Kim looks to new Korean American members for help in urgent times | By Martha Vickery (Winter 2021 issue)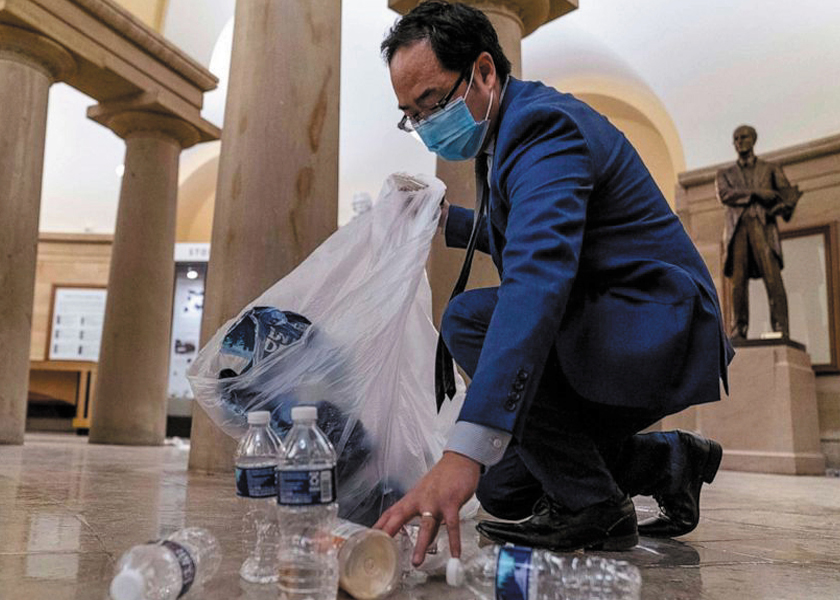 After a tough election year, and after winning his first reelection to his seat in a swing district of New Jersey, Rep. Andy Kim was hoping to sit down with his new colleagues in the soon-to-be Korean American caucus of the 117th Congress and talk about how they could collaborate in 2021.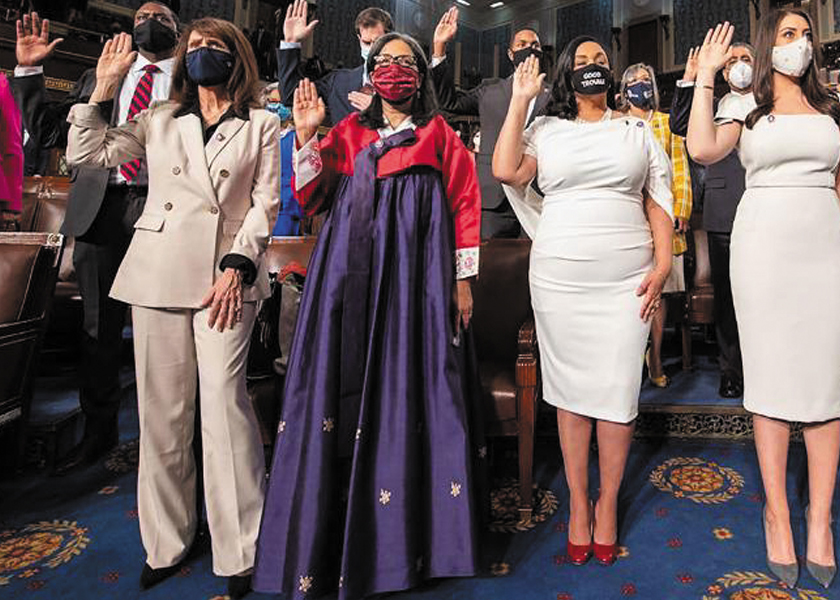 The swearing-in ceremony for new members of Congress, held Sunday, January 3, included three Korean Americans: California representatives Michelle Park Steel (R-38th District) and Young Kim (R-39th District); and Marilyn Strickland (D – Oregon's 10th District). Strickland drew attention from Korean media because she took the oath wearing a Korean traditional dress (hanbok). Of five Korean American House candidates (including Kim) who ran in 2020, four were elected. In addition to being the most Korean American candidates for Congress in one year, they are now the most Korean Americans to serve at one time in Congress.
The two days after the swearing-in were busy with members getting used to new roles and new committee assignments. Then January 6 happened. "Because of what happened on January 6, that kind of derailed the time we thought we would have to get together right now," Kim said.
On January 6, Kim said, there was strong suspicion in Washington that there would be turmoil on the streets, in the form of demonstrations by pro-Trump extremists. "I told my staff not to come into the office. I told my wife not to come to DC that week," he said. "But we never imagined what actually unfolded in terms of an insurrection in the Capitol."
"It was a day full of chaos," he said. "We literally did not know what was happening. We didn't know where people were at, and who was safe, who was not. And also, we did not know who was coming to help us. And it took hours before the Trump administration authorized the National Guard to be able to come to our defense."
Despite the trauma of the day, Kim said he agreed with other members that the House should continue its work to certify the election in favor of Biden. "It was a very long night, but we were able to finish the votes of the electoral college and certify the election. That was very important."
The next day, after a lot of horrifying videos and photos of the insurrection were broadcast and posted, a few photos by Associated Press photographer Andrew Harnik were posted on Twitter, showing Kim with a trash bag in a dress suit and a mask, picking up the detritus of the day before. There were drink cans, clothing, and even tattered Trump flags and body armor left behind. The photos quickly went viral.
The photos were taken very late at night, after the election was finally certified and most of the House members had gone home. Kim came out of the session, saw the destruction, and the staff who had begun to quietly put things back in order, since Congress had to be in session for the rest of the week. He grabbed a bag, and started helping out.
"It was very instinctual. I didn't actually think about it," he said. "I literally just started doing it. …I just felt that I needed to do something," he said.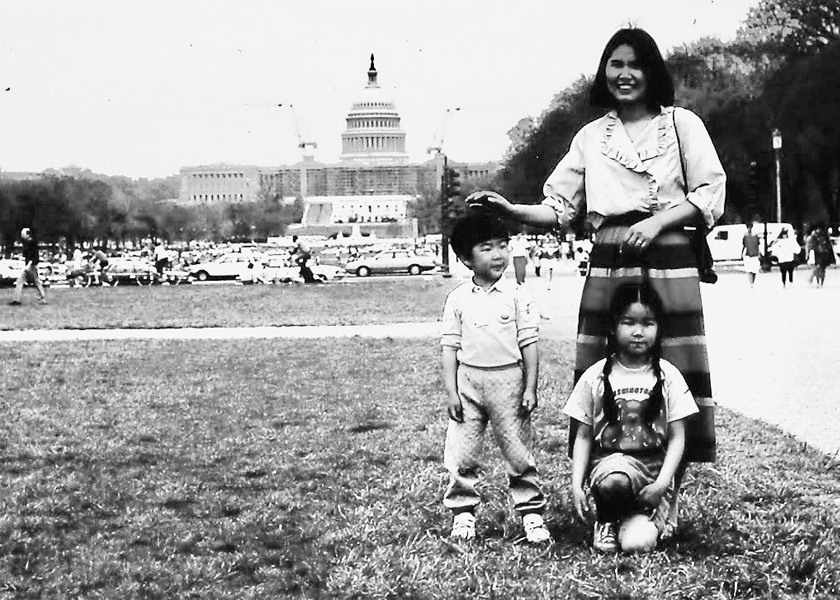 After being asked about his clean-up duty several times by the press, Kim found and posted a photo of himself, perhaps age five, with his mother in a happy moment on the lawn of the Capitol. "She's the one who the one who taught me to love and respect that building and this country."
Kim's father was a Ph.D. medical researcher, and his mother was a nurse. Their lives, both in Korea and the U.S. were very tough, he said. "It is amazing what they accomplished here, and they really credit this country. They taught me to treat this country with respect, and to cherish it, and those instincts are part of what kicked in on that day."
The day of the interview, Kim said, he had been thinking of the future Korean American Caucus because he was approached by advocates for the Adoptees for Citizenship Act, a group that has been pushing for citizenship for international adoptees who, through no fault of their own, were not made citizens by their parents or guardians. Because of the numbers of Korean adoptees, and the leadership of Korean adoptees in this cause, it could be a good bill for the Korean American Caucus to get behind, Kim remarked.
I have raised the Adoptee Citizenship Act with the Biden Administration to see where they are at on this," he said. "I think we can get it through both the House and Senate but it is not going to come up for a vote unless we can get it signaled as a priority, and that's something I have been working towards."
A future Korean American Caucus could presumably deal with issues impacting immigration reform and issues affecting small business entrepreneurs. It could also work on issues related to coronavirus relief rollout, Kim said, such as working with Asian American immigrant groups to solve issues involving language barriers and trouble obtaining appointments for vaccines.
In general, the workload before the House is urgent and overwhelming, Kim said. "We are in a very difficult situation, workwise, with an enormous quantity of issues we have to deal with and multiple crises we have to address simultaneously. There is a public health crisis and economic crisis, and also a crisis in our democracy where many people across this country and many in government feel that it is in a very dire condition, and that it needs to be addressed immediately. I certainly feel like, after having lived through January 6, that if we don't take some real steps to fix the trajectory we are heading in, things could get even worse. "
On the day of the interview, Kim said the first order of business was to "start to line up work for coronavirus relief negotiations. …It is a $1.9 trillion-dollar initiative which would make it the second-highest spending bill in the history of our country so there's a lot we are trying to move forward."
Asked about talk of a compromise on the relief bill, Kim said, "it is a matter of what you want to compromise. Yes, it needs to be bipartisan, but the main thing is that right now we are in a once-in-a-multi-generational crisis. People are dying at unbelievable frequency. We are hitting a half a million killed in this country from the pandemic. So, we have to rise to this moment."
The worth of the relief bill, Kim said "has to be about 'does this meaningfully address the magnitude of the problem we face right now?' That is a more important threshold than getting a handful of Republicans on board."
Economists who are both Republican and Democratic-leaning are saying "this is the moment to go big," Kim said. "There is so much at stake here, and we are trying to find that right balance." But, he said, "Right now, looking at all the hungry people in my district, literally seeing families down to their last meal, and I know we have to do something soon."
Kim said he was surprised, then touched that photos of him with trash bag in hand went viral at a sad and traumatic moment. "I certainly didn't expect anyone to photograph that. And then I certainly didn't expect it to get the attention it did. I have to say that if people saw the photographs and drew some hope from it, and if they saw there are people who are public servants, trying to do the right thing, I'm happy to play a positive role in an otherwise very tragic day."