Gold medal gymnast Sunisa Lee gets some accolades from a grateful city at neighborhood parade | By Martha Vickery (Summer 2021 issue)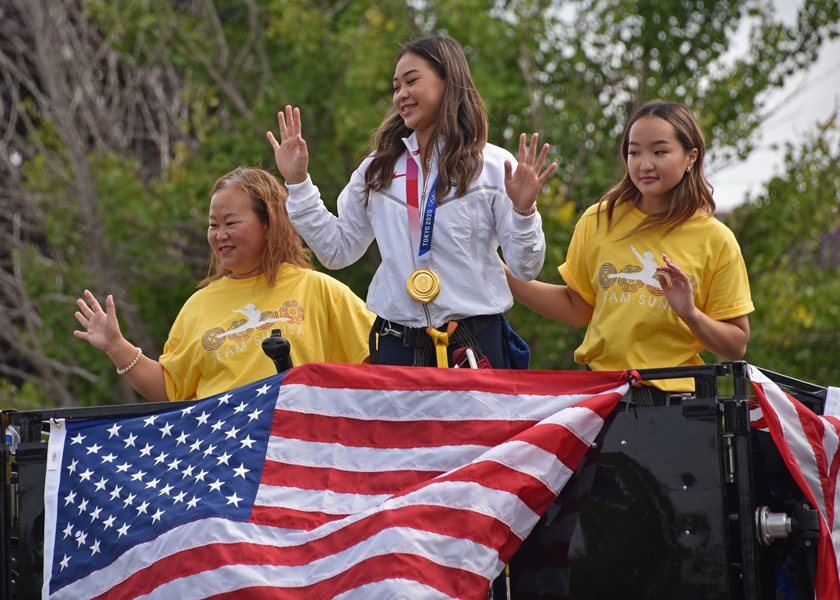 At the end of a very old-fashioned style parade with a color guard, trucks wrapped with crepe paper, and groups that danced in the street, Suni Lee sat atop a St. Paul fire truck on an August afternoon, setting off occasional roars from the crowd that extended for a mile on White Bear Avenue as it worked its way north to a formal program at Aldrich Arena.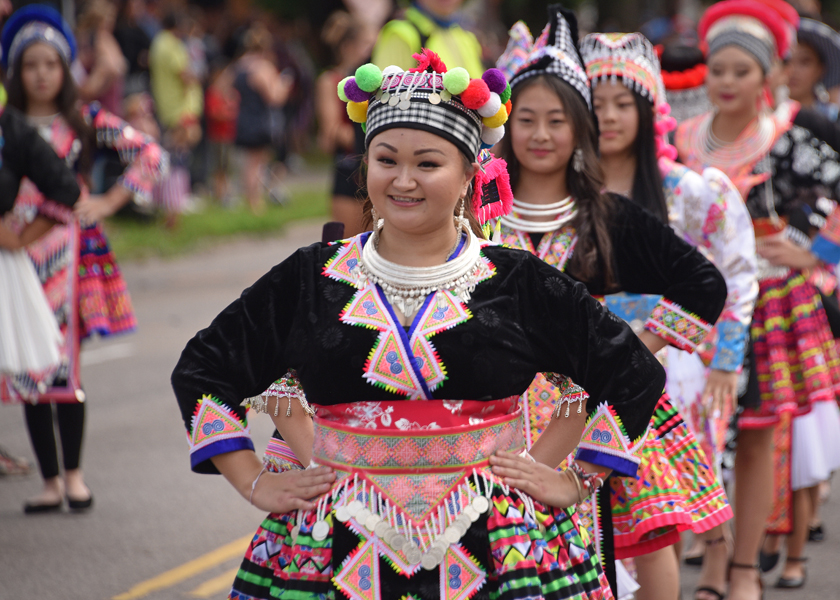 Family members, including Lee's parents and five siblings, wore bright yellow Team Suni t-shirts. The parade had a diversity focus, with a Native American group, the Aztec/indigenous drum/dance troupe Kalpulli Yaocenoxtli, and a Hmong American women's group in full traditional dress.
The 18-year-old high school graduate had just returned from the Olympics with a gold medal in the women's all-around gymnastics event, a silver medal, with the rest of her team, for their second highest overall score, and a bronze medal for the uneven parallel bars event. She barely had time to come home, fly to New York for TV interviews, fly back, appear in the parade, and pack up her medals, and get to Auburn University in Auburn, Alabama, where she will start her freshman year of college. Auburn is one of the top college gymnastics universities.
Outdoors at the Aldrich Arena, Gov. Tim Walz, St. Paul Mayor Melvin Carter, and fellow Hmong American Sen. Foung Hawj, who represents District 67 on the St. Paul's East Side, teamed up to talk about what Lee's victory means to the city and state.
Walz reflected on how the Hmong people got to Minnesota, and recognized the many veterans who fought with U.S. troops and then fled their homeland after the war, with a large number settling in Minnesota. "Every day you have been here, Minnesota has gotten better," he said to the hundreds of Hmong Americans in the audience.
Walz said his lasting memory of watching the Olympics will be the sight of Lee's big family standing up and cheering when they knew she was getting the gold. "And after 18 months of not having much to cheer about, thank you for giving us a day of joy."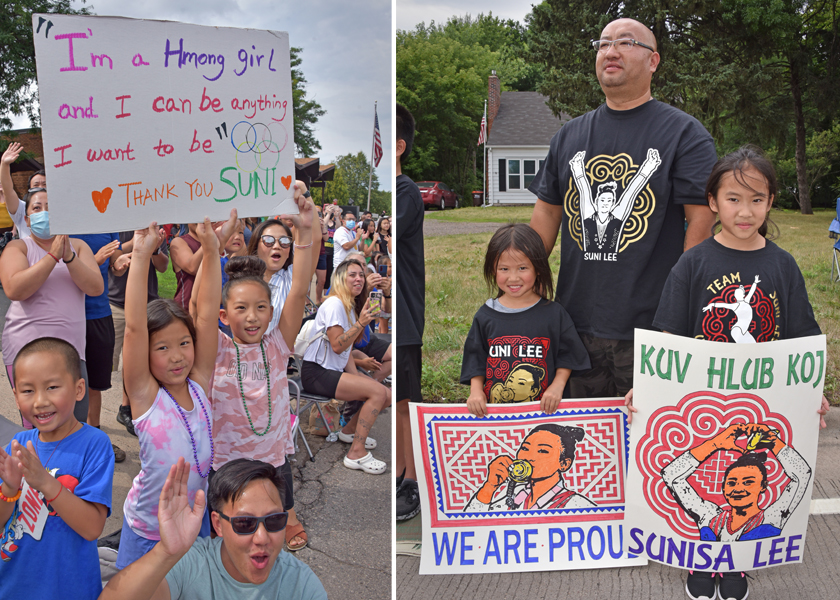 Hawj talked of "East Side Pride," a common slogan in the neighborhood, a combination of "hard-working people, sacred sites of indigenous people, stories of immigrant families, green spaces, and our diversity representing much of the world." He invoked the memory of Herb Brooks, the coach of Hockey Team USA at the 1980 Olympics, when the team won a gold medal for the U.S. against Russia, in an upset victory dubbed "the Miracle on Ice." The story has been retold in books and in a Hollywood film. A statue of Brooks is now in front of the Xcel Energy Center in St. Paul.
Lee is the sixth American to win the gold in the all-around gymnastics title, Hawj noted, and also "the first Minnesotan, first Asian American and first Hmong person ever in this world to achieve the gold medal title in Olympic gymnastics." The legend of Suni Lee will be known as its own miracle, Hawj suggested, because it represents a younger, newer story, of diversity and of immigrants overcoming great odds. "There will be books, articles, and perhaps a Hollywood film, or a statue of you in St. Paul," he said, addressing Lee.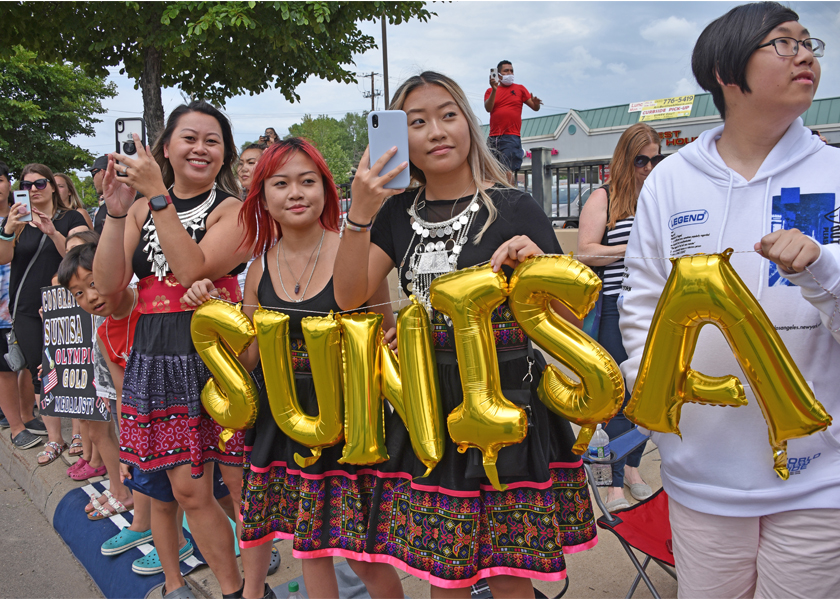 Carter remarked that it is "poetic" that this new champion is a young Hmong American, particularly in the light of how all Asian Minnesotans have been dealing with anti-Asian hate. "We have seen people ask 'are they American enough?' or 'are you part of our country?'" At the same time, he said, "we have seen our Hmong community hit hard by this pandemic." The mayor recognized that "our Hmong community brings an incredible amount of diversity, of richness of jobs, businesses, culture, educational opportunities, tax base, mentors, teachers, elders, and recently through Sunisa Lee our Hmong community brought home to us an Olympic gold medal."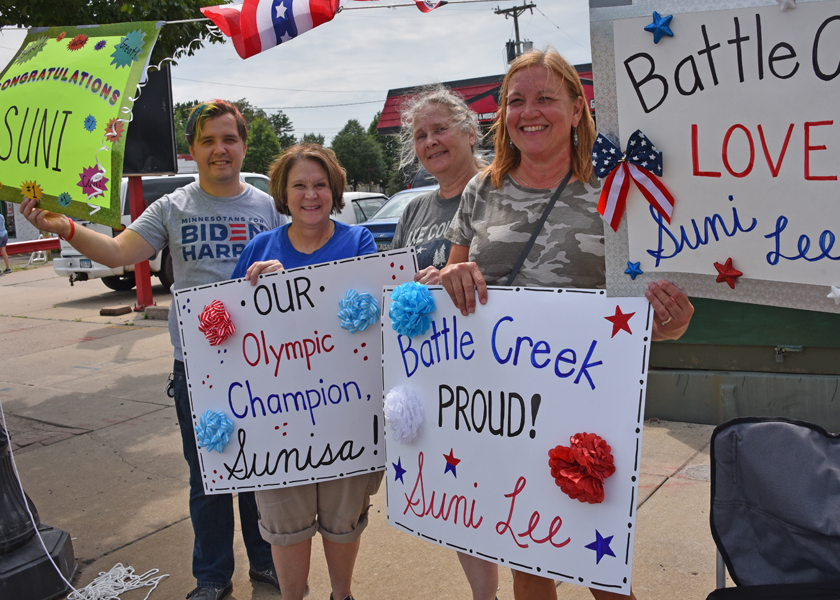 Contacted after the parade, retired teacher Scott Richards said he met Lee when she was in kindergarten and he was her gym teacher at Battle Creek Elementary School. He taught her through sixth grade. "I had my gym set up kind of like a ninja gym," he said, "with climbing ropes, climbing wall, cargo nets, and monkey bars," he said. "We stressed a lot of fitness and strength skills," he said. The idea was to start kids in skills that didn't depend on knowledge or skill in a particular sport.
"Right away, on her first day, I watched her and I was amazed at how strong she was. …I had levels for the kids to move through, and the primary levels were not even close to challenging her," he said. She was enthusiastic about any new thing. "Rock climbing? Her rock-climbing skills were off the charts. …Things that other kids would try once she would do five times."
Students like that who show such strong early promise are few and far between – one or two percent, Richards guessed. She had a kinesthetic sense in imitating a movement, he said, an unusual ability. "She would watch it, then she could do it."
After starting gymnastics, Richards said, he and fellow teacher Mary Romoser asked Lee to show them any medals she might get from a meet, and tell them about what she did. "They were little local medals at first. Pretty soon she was bringing in some from out of state. …By third grade, she was a decorated gymnast." That is when she first said "I have my eye on the Olympics," he remembered. It wasn't like most kids talking about a fantasy. "She was dead serious," he said.
Her classmates probably did not know about her gymnastics, he said. "She did not brag about it, not at all a show-off. Just super-quiet, humble, hard worker, and a good student. Very fun to have! Sometimes you can't believe you're getting paid to watch and experience, and have fun with these kids."
Richards and Romoser would update one another by email as Lee got older, he said. Some of his students would bring in articles about her, and he would save them under the glass on his desk.
He and Lee had a Twitter conversation in early 2020 when she found out she would have to wait a year for the Olympics. She had just won the World Championship, and did not know how she would keep up her practice for another year. "In gymnastics, that window of time is really small. But she fought back from it." It is also a mentally tough sport in many ways, Richards said. "You are out there, in front of everybody – no team to fall back on – there are no excuses."
Lee's success was despite big odds, Richards said. Because of the cost of the sport, it favors those with the extra income to send their kids to expensive training and summer camps, and the extra time to drive them to practice and meets. Lee's family was just average, with two working parents and six kids. The whole family, along with her coaches, had to pitch in to keep her going toward her goal, Richards said.
Although she had early natural ability, Lee had to work persistently to bring it to a high level, despite considerable obstacles that would discourage a less-determined young woman. He added "It was the most amazing thing I ever saw any student do, in 35 years of teaching."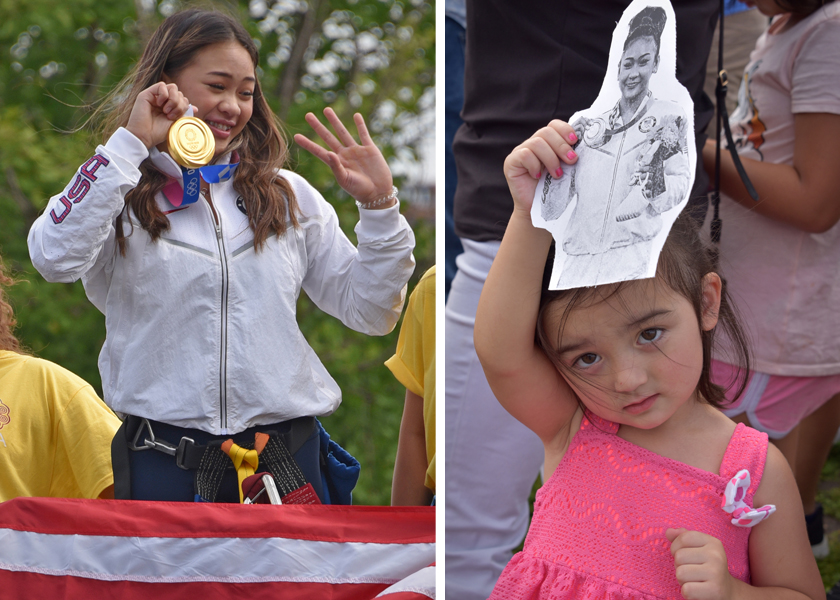 "There's a lot of girls and boys out here today," Lee said, addressing the post-parade crowd at the arena. "And I just want to say that if you want to reach your dreams, please try and go for it because you never know how far you are going to get."