In 2013, a 60th anniversary, a documentary filmmaker, a Madison chef and analyzing the U.S. response to North Korea's new leader | By Martha Vickery (Spring 2023)
(Korean Quarterly published a print edition from 1997 to 2022 ~ these articles appeared in the Spring 2013 issue. All 25 years of KQ content will be part of a digital archive here at koreanquarterly.org and will debut on the KQ website soon.)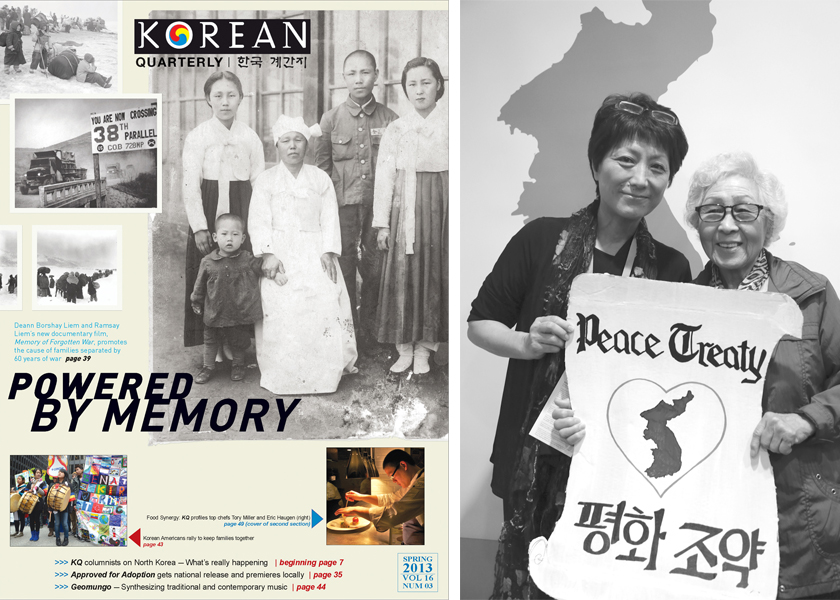 The film Memories of Forgotten War, a moving documentary about Korean Americans who fled from the war in 1950 and made a life in the U.S., premiered 10 years ago and was covered in the Spring 2013 issue. The film's premiere coincided with the 60th anniversary of the Korean War's end in 1953.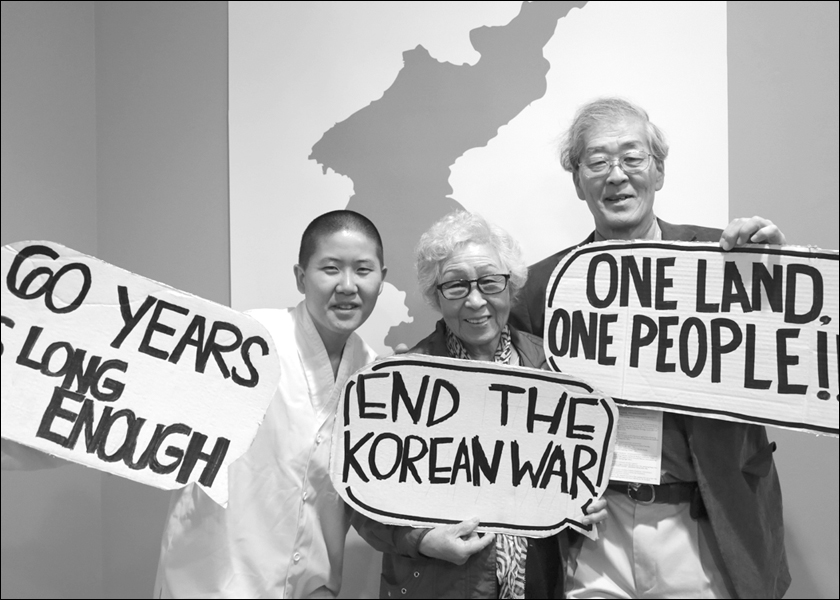 Memories of Forgotten War was a collaborative project of documentary filmmaker (and Korean adoptee) Deann Borshay Liem and her brother-in-law, psychology professor and author Ramsay Liem. Liem's research area is the interaction of mental health and human rights, particularly in Korean War survivors. The film concentrates on two men and two women who fled from what is now North Korea, were separated from family members for many years, and reunited in North Korea many years later. It was screened in many areas of the country, and in Minnesota at the Transracial Film Festival in November 2013.
Filmmaker Deann Borshay Liem in 2020 produced Crossings, a documentary about the 2015 crossing of the Demilitarized Zone by women activists and peacemakers. The event documented in the film was through Women Cross DMZ, a peace activist organization.
This summer, the filmmaker will participate in a Korean War 70th anniversary event Korea Peace Action: National Mobilization to End the Korean War, to be held by Women Cross DMZ and other coalition sponsors July 26 through 28 in Washington, DC. More on Crossings, Memories of Forgotten War, and other Borshay Liem films is on the website: www.mufilms.org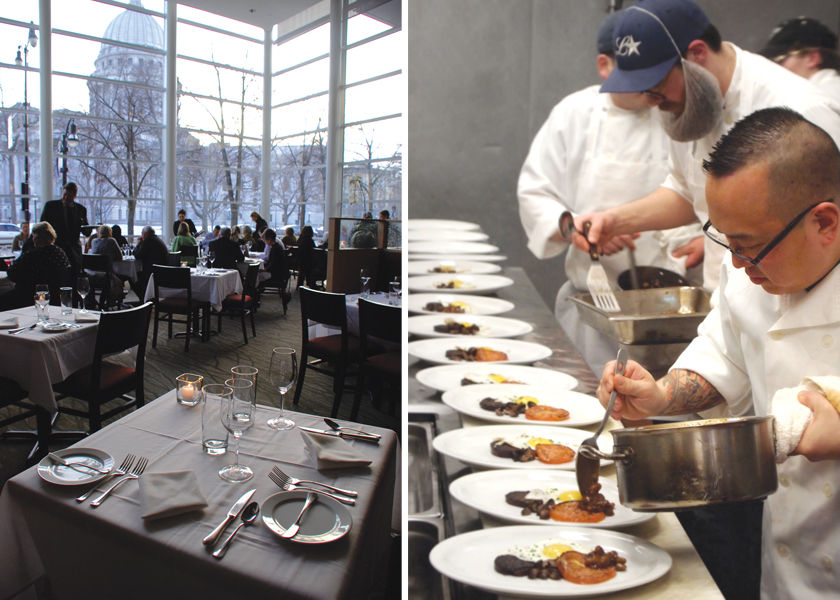 Also 10 years ago, KQ followed Chef Tory Miller, a Madison, Wisconsin chef and champion of the local food movement. Miller discussed contracting with local and organic crop and livestock farmers, as early as seed-purchasing time for the next year's crop, to supply his two restaurants with food during the next year. One is the fine dining L'Etoile, where he started working in 2003; the second is the farm-to-table brunch/lunch spot Graze, founded by Miller and partners in 2010. He caught the attention of foodies and food writers nationally in 2012 when he won a coveted James Beard award. Miller eventually opened two other establishments after Graze. However, Sujeo, an Asian American-inspired casual restaurant closed in 2019, and Estrellon, a Spanish-influenced restaurant, closed in 2021.
Finally, 10 years ago, there was increasingly grim news coming out of Korea as reports that its still-new leader Jong Un Kim (then age 27), had plans to bomb U.S. cities with atomic weapons, including, as columnist Tim Shorrock reported, the unlikely location of Austin, Texas. Several Korea-watchers reported on this topic in the Spring 2013 edition. Additionally, the Kaesong Industrial Complex, a collaborative business effort between North and South Korea, located just north of the Demilitarized Zone, was shut down. Many hoped the Kaesong complex would stand as a success and an example of a useful North-South joint venture, and its closing was a loss to many Koreans.
Shorrock, who grew up in South Korea and has reported on U.S.-Korea relations for many years, notably as a contributor to The Nation, related many complicating factors in the run-up to the new Kim's warmongering talk, including a policy that the Obama Administration dubbed "strategic patience," which worked on the logic that the North Korean regime would essentially burn itself out and implode. "That policy turned out to be a strategic miscalculation. [Jong Il] Kim did die last year, but the transition to his third son, Jong Un Kim, has gone smoothly. The regime is still there, as strong as ever."
Ten years ago melds and collides with present-day politics as that era's vice-president Joe Biden, is now the president; that administration has demonstrated the same strategically neglectful policy towards the continued threats from North Korea in the face of brand-new hot war threats from Russia's war on Ukraine.
These days, Shorrock maintains a website The Shorrock Files: New, Rare, and Unreleased Material from the DMZ Empire, on which he discusses his archives on the May 1980 democracy uprising in the city of Gwangju, and his work with the city's 5.18 Truth Commission (www.timshorrock.com)