How home cooking brings comfort and a sense of belonging | By Suni Miller Zmich (Spring 2022 issue)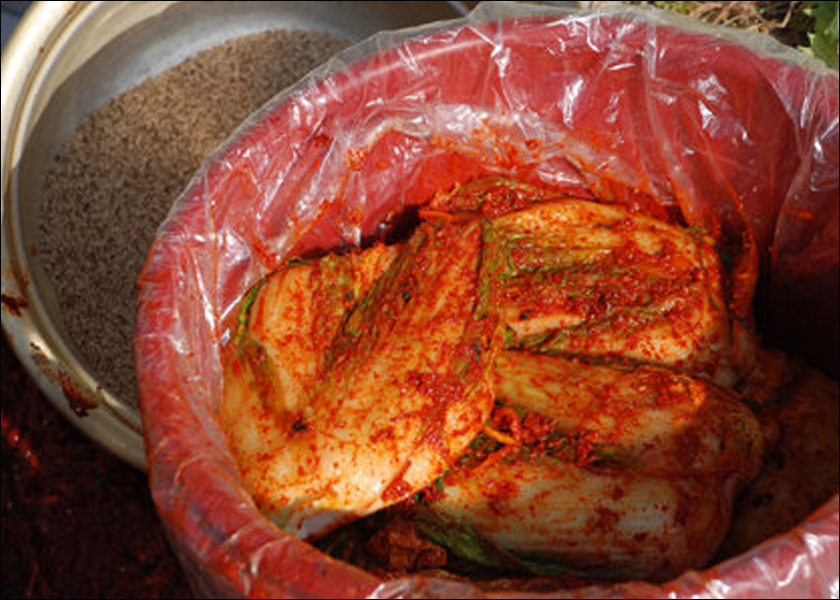 According to my infant medical records, when I was nearly a year old, I only weighed eight pounds – the same as my oldest daughter's birthweight.
I am a Korean adoptee, but my parents rarely acknowledged my Koreaness as a child because I rejected it when they tried. I remember eating Korean food only twice during my childhood, but I loved the traditional Jewish and southern food that came with my family. Surely, my need to savor was brought on by the malnourishment I endured as an infant.
Food is primal for me, probably because of my rough start in life. It is my obsession.
Recently, I drove home with two-and-a-half gallons of kimchi, sporting red splatters on my coat from the gochugaru (Korean red chili powder) mixture, looking like a victorious paintball player. Over my lifetime, as a Korean adoptee in a white family, I haven't known many other Koreans, and have had very few chances to be in a close community with any. For much of my life, I felt very white, despite what the mirror (and others) told me every day.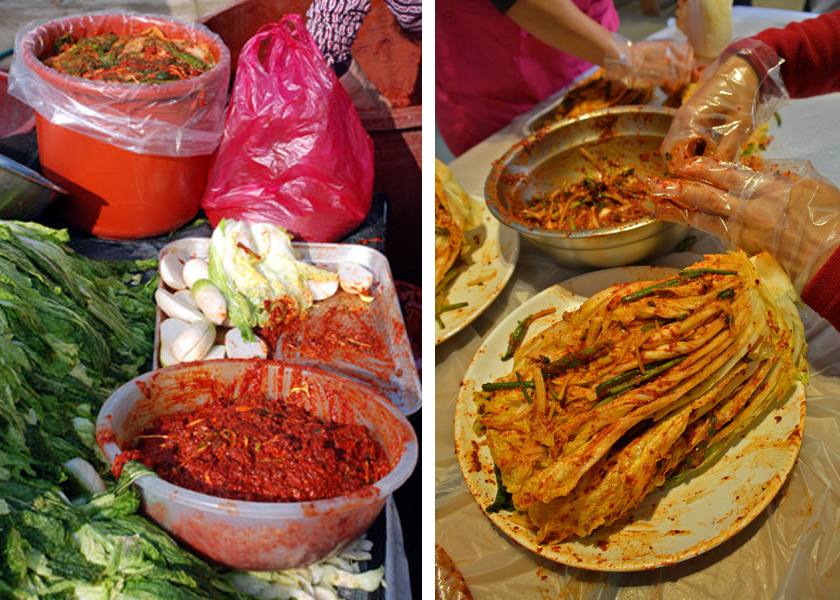 Serendipitously, I had been invited to a kimjang – a traditional collective making of kimchi. The energetic group of ladies at the event were welcoming as we gathered outside. A few were "Korean-Koreans" (i.e., Korean immigrants who have been making kimchi since childhood), but most were Korean adoptees like me. As we chopped vegetables and mixed the ingredients with our gloved hands, camaraderie and obscene amounts of garlic were enfolded into the concoction. We joked about motherhood and Asian babysitters – sending us into fits of laughter.
Afterwards, I wondered if acceptance is exactly what the kimjang tradition was meant to nurture – a time when Koreans are unguarded and understood. Being included brought a sense of completeness that I subconsciously searched for my entire life (not to take an inch away from my American family's Jewish and redneck traditions). As a nomadic Army brat, I never knew that Korean adoptee communities existed in America until recently.
Last year, when I spoke to Joy H., one of the interviewees for my book, Through the Lens of Ourselves, she described a "subtle internal click" that happened when she met her Polish biological family. A significant portion of our conversation was dedicated to nuanced Polish recipes. Her newfound heritage has given her an excuse to eat kielbasa, the sausage she loved her whole life. The completeness she felt washed over me as she talked about her birth father's family Christmas tradition of making pierogis (think: flat half-moon shaped ravioli boiled and sautéed in butter and garlic).
Reflecting on my satisfying kimjang day, I thought "Now I get it." My "click" was raucous and permeating. Who would have thought that kimchi could not only be healing for my digestive system, but also for my soul? I knew also that it was not just the kimchi produced, but that the satisfaction came from doing something so basically Korean with other Korean people, and the acceptance I felt from that gathering.
Food has always been central to my family. From my adoptive Jewish family on my mother's side, I learned about the healing properties of matzo ball soup, the equivalent of American chicken soup. My beloved grandmother taught me an adaptation of the traditional recipe. After cooking the stock for hours, she would mash the vegetables and garlic through a colander, returning them to the pot to create a thicker and more rustic soup. Traditionalists say that the vegetables are "spent" after boiling them and should be discarded. I disagree. They still offer textural and visual value. The miniature pieces of carrots lend a welcoming rich color to the dish and create a comforting and substantial mouthful.
Similarly, years later, when I tried the Korean soup yukgaejang for the first time, I immediately understood it to be the equivalent to matzo ball soup. The bold reddish color reminded me of an amped up version of my grandmother's recipe. The beef bones are simmered for hours with vegetables to slowly develop a depth of flavor.
I have had both soups at different times when I've been under the weather. The matzo ball soup reminds me that I am loved by my Jewish family. The yukgaejang makes me feel better physically and simultaneously reminds me of how I yearn for familial tradition. The flavors are addictive, and the experience is psychologically familiar. The taste is of something I once lost as an infant and now rediscovered through my senses. The spiciness of the broth opens my sinuses, allowing me to breathe both literally and metaphorically. I can taste the minerals from the shiitake mushrooms – almost as if they were plucked from Asian soil, giving me a glimpse into the lives of my ancestors. I can picture my Jewish grandmother having tea with those ancestors in the afterlife.
My aunt once told me that after my parents adopted me, my grandmother became obsessed with all things Asian. Even though I spent a lifetime often feeling out of place due to my adoption, the time spent with my grandmother was the exception. Being with her, and in her house, was always a homecoming experience. Our relationship revolved around food – she would take me to fancy restaurants – just the two of us.
The heart of her house was a supersized gourmet kitchen, complete with two types of grills, two sinks, state of the art appliances, and matzo ball soup made with love. At one point, she gave me her porcelain china and formal dining room furniture – they are now beautiful antiques. Her spirit joins us at the table for holiday meals, as we sip from Limoges teacups painted with Asian designs. When I open the cabinet doors, I swear I can smell her house and the hundreds of meals she served.
Recently, a friend and I joked about how I lucked out having a Jewish family, since Jewish and Korean cultures share so many values. Both cultures carve out distinct divisions between right and wrong, and coloring outside moral lines is not negotiable. Righteous outrage at injustice is expected. Education is paramount. But it is our love of food that brings Jewish and Korean family members back to the table over and over.
In contrast to my mother's Jewish family, my dad's family members are self-proclaimed rednecks (of the Appalachian hillbilly variety). Growing up, my mom and dad used to joke about how "red" his neck was. When I was a child, I thought they were referring to his skin color because he has some Cherokee roots, and his neck is tinged with red undertones that are pronounced when he tans.
From my redneck relatives, I learned about the importance of slow-cooked grits and the joy of biscuits made from scratch. I remember my dad fondly talking about visiting his grandfather in coal-country Kentucky. They would have a grand-slam breakfast before a full day of manual labor, fueling up to make it through the workday. It recently occurred to me that the love needed to create country home-cooked breakfasts is not unlike the soulful effort put into kimchi-making. Kentucky breakfasts are made to last through long workdays. Kimchi is created to last for months. Both are made with love and intention. Both are shared rituals.
For most of my lifetime, I wasn't so sure that my redneck sensibilities fit well with my Korean roots. However, I have come to the conclusion that when it comes to our attitudes about food, we match. Whenever I would visit my dad's parents, Granny would stuff me with American junk food, potatoes and gravy, and packaged white bread slathered with butter. As we left, she would insist I take a handful of candy bars for my trip home. Proffering food was her version of love. As an adoptee, I think I somehow understood that, never turning down a serving.
When my Jewish grandmother learned about the non-nutritious food I indulged in while at Granny's house, she was aghast, telling me I needed to say "no thank you." I never did. How could I reject someone's love when that's what I craved my entire life?
My obsession with food is probably a big part of why I fell in love with my husband. When we dated, he cooked for me, and when I had his garlic-forward alfredo sauce for the first time, I knew I was in trouble. He cooks about 90 percent of our dinners, and for 32 years he has shown me his love over and over.
As young adults, my husband and I gravitated towards the European peasant cuisines rich in aromatics. As we developed our palates, I realized garlic was the constant thread in our adventures. As we moved across culinary continents, our exploration of Asia brought us to Korean cuisine, lured by its abundant use of garlic and spice.
As child, I loved when others cooked for me – it gave me a sense of belonging. As an adult, I still love being fed, but I love to cook for others too. Breakfast is my favorite meal to make for my daughters – certainly a vestige of my redneck heritage. Fill 'em up before sending them out into the world.
My daughters are now busy adults and come home when they can. We are all looking forward to our next visit because I bought large kitschy glass containers which will be transformed into kimchi jars. My girls are excited to participate in our first family kimchi-making party, a kimjang. And I am equally excited to nourish their souls with the Korean tradition of love.