A Living Remedy: A Memoir ~ By Nicole Chung
(HarperCollins, New York 2023, ISBN #978-0-0630-3161-6)
Review by Bill Drucker (Spring 2023)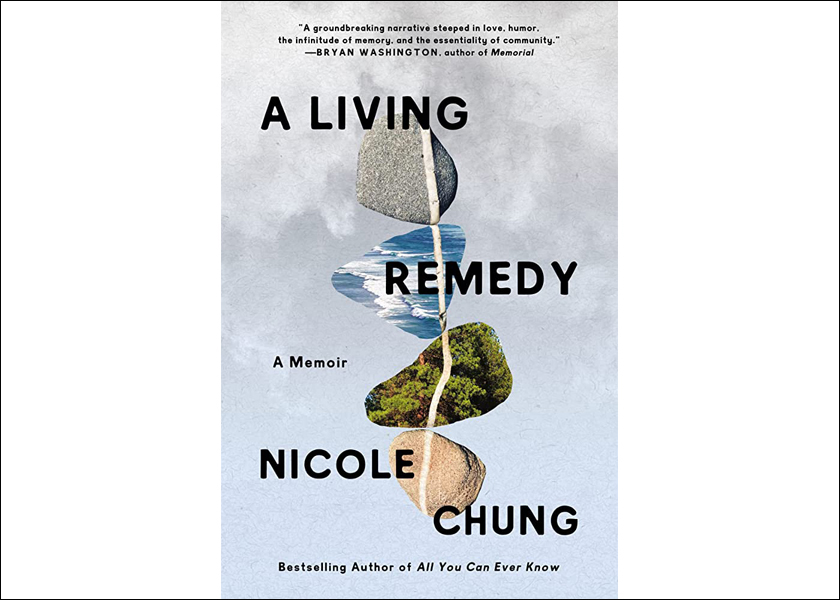 The cultural and generational gaps of adult children and their parents, the chasms of inequality between rich and poor, particularly in our most vulnerable days, and the confusion and family separations during the pandemic all get a thorough airing in a new memoir by Nicole Chung entitled A Living Remedy: A Memoir.
Growing up in Oregon, the adoptive daughter of white parents, Korean American Nicole Chung jumped at the chance to move to the other side of the country for college. Oregon was an oppressive environment for her as an Asian teen; she was tired of the racial condescension in the small, white town.
Establishing a life on the east coast, her life undergoes a change. In college, she encounters other Asians. She meets her future husband, Dan, a scholarly type from Hartford, Connecticut. Laid back, easy-going Dan has no issues with their mixed-race relationship. He's a comforting presence for the emerging author, and her writing career begins to flourish.
However, her parents have a serious health crisis, and the issues around their need for health care become a part of Chung's life too. Her parents never wished to burden their daughter with financial issues. The sudden and necessary realignment of roles and responsibilities is troubling for all. She visits to try to make sense of the situation and describes her father throwing a bowl at the wall, angrily dismissing his daughter's concerns about how they are going to pay for his ongoing care.
While she expounds on the inequities and inadequate structure of American healthcare in general, the author also describes her parents' reticence to get adequate health care coverage. She points out that some 49 million Americans have either inadequate healthcare, or no healthcare. As her father's health worsened, the money to pay for his treatment was quickly running out. He needed medical visits, including dialysis, and medical tests, but also rent, food, and other living expenses. Chung and her husband frugally tracked every cent to meet their own basic living expenses. Her parents refused any money offers from their daughter, knowing that Nicole and Dan were operating on a tight budget.
Chung describes her struggles to provide medical support for the family she was raising and the family that raised her. Her parents were denied Medicaid. They were still too young for Social Security and Medicare, and ineligible for food and rental assistance. Their refusal of government aid in general was another sticking point. When Nicole would mention the availability of free community clinics, her mother made excuses. Trying to persuade them over the phone, Chung had limited ability to influence her parents. She felt frustrated and useless.
Her own mental health also became an issue for the author, as her stress and anxiety escalated over time. On a visit to Oregon, feeling overwhelmed, Chung describes herself grabbing the car keys and leaving quickly, needing to escape. She later breaks down in her physician's office, and the doctor suggests she seek some therapy.
On the answering machine, she finds a message from her aunt in Oregon that her father has died after being on dialysis for six years. After all the suffering, he went quietly in his sleep. On the phone with her mother, Chung asked what she could do. There was nothing, her mother told her.
The circumstances brought the author only regret, anger and pain. The weight of grief felt like a solo burden, despite her sympathetic friends and family support. A kind of numbness took over; the author describes how she could barely remember the days and weeks that came and went.
During the months after the successful publication of her first book, All You Can Ever Know, Chung's mother called her to tell her she had cancer. It was only nine months since her father's passing. Chung resolved that she would meet her mother's needs for medical care.
Chung writes that, when asked, her mother was not direct with her on the topic of her health. She skirted and dodged her daughter's questions. Her mother texted "I'm doing ok. We can talk when you get home," which made Chung brace herself, fearing the worst.
Chung and her husband were at a belated Christmas celebration with his family when they got a call that her mother had had a seizure, and woke up on the floor. Chung flew back to Oregon, and called oncologists, who ordered more tests.
The options on how to proceed were all scary: Radiation to shrink the tumor, surgery to remove it, or no treatment but hospice care. Chung knew that her mother was afraid, but also that she had a circle of supportive friends, and that her mother would likely talk to them more frankly than to her own daughter.
This medical crisis was exacerbated by the disruption of the pandemic. Schools closed, offices emptied, and a lockdown was mandated across the country. The author relied on her computer for social contact and ongoing information about her mother. Her concern for her mother and for her husband and kids, while trying to spend time with her writing career, were the new normal. The days blurred.
When her birthday came, her frail mother called to sing her a birthday song. The nurse called to say her mother had a good day.
After her mother's death, boxes of her mother's belongings arrived, but Chung hesitated to open them. Mother's Day and the month of May becomes emotionally difficult. She started to dream of her mother and hear her voice. Certain scenes or events triggered memories. As the title suggests, the author learns that the remedy for loss and grief is through living.
This moving second memoir brings out all of author's vulnerabilities and frustrations; it also showcases her confident and descriptive writing. She writes with palpable emotion and resonant wording about some of the greatest upheavals of one's life. Despite the raw subject matter, this is a beautifully-written book. She expresses with openness what many of us deeply feel but cannot articulate; of loss and grief, the burdens of blame and guilt; and the reactions to loss – lashing out and going numb. She also writes of the full circle; the slow climb back to wholeness after loss, and the process of finding our way home again. As the book's title suggests, it happens through the remedy of living.
Chung is the author of the bestselling memoir, All You Can Ever Know. She has contributed to the New York Times, the Atlantic Review, Time, GQ, Slate, and The Guardian. She was born in Seattle, adopted and raised in the Pacific Northwest, and currently lives in Washington, DC.