Before Adoption… There was Dr. Cho: Stories and Experiences of a Post-War Pediatrician ~ By Byung Kuk Cho
(Samsung Book Company, 2009, Re-issued by The Adoptee Group, 2022, ISBN #979-8-4253-8825-4)
Review by Bill Drucker (Winter 2023)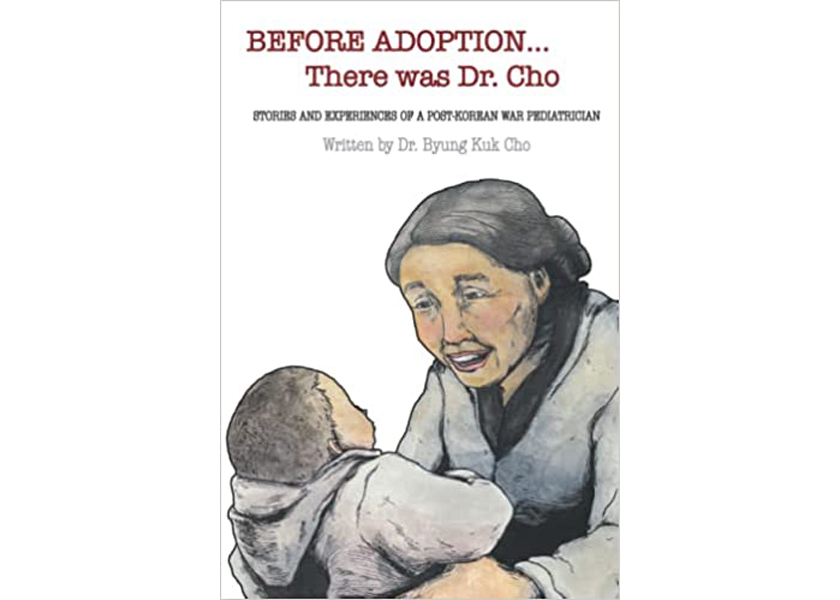 This is a memoir by physician Byung Kuk Cho, a woman who cared for thousands of children during the post-war era in South Korea, who also witnessed South Korea's rise from a devastated, war-torn country into a modern, democratic state.
In 1958, just five years after the Korean War, an idealistic young doctor, just out of medical school, began her first job as a pediatrician in Seoul.  Cho's narrative chronicles Korea's medical history, explains Korean culture, and shows how she cared for thousands of orphaned and abandoned children.
Living through the post-war years in Korea after the war was challenging.  Food was scarce, disease was rampant, and medical staff and resources were in short supply.  Dealing with the suffering of the most vulnerable was overwhelming.  In her lifetime, Cho would go on to care for more than 60,000 children as the only pediatrician at Holt Children's Services, which established the first overseas adoption program after the war.  Since 1960, three other adoption agencies also created overseas adoption programs: Eastern Social Welfare Society (ESWS), Social Welfare Society (SWS), and Korean Social Services (KSS).
During the post-war years, thousands of orphaned and abandoned children were homeless on the streets of Seoul. The city administration would routinely gather children and infants for placement in overcrowded orphanages and hospitals. The number of deaths were disheartening. In some hospitals, with the shortages of food and medicine, there was a 100 percent death rate.
Even in the larger population, people's overall health was poor at that time. Many were disabled from war injuries, accidents, or disease. People also suffered greatly from war trauma, grief from loss of family, and from family separations caused by the war flight and the abrupt division of the country into north and south. Many children were malnourished, and due to malnutrition also vulnerable to meningitis, polio, measles, typhoid, tuberculosis, and pneumonia. 
Cho writes that health care workers were frustrated at the lack of staff and supplies. The best efforts of the doctors were not enough to save lives.  The medical staff suffered from depression and burnout, sense of failure, and personal struggles with grief.
The author writes of how she worked long days, dealt with constant shortages of medicine and equipment, saw dying children and counseled grieving families every day, while taking care of her own three children.
This memoir is a long parade of remarkable people that the physician encountered, including children, volunteers and fellow professionals.
Some memorable children
Cho relates that there were some children she will always remember.  One, who Cho named  Young-hee, was vomiting and had diarrhea. A nurse suggested her grandmother's remedy – broth made by boiling dried persimmons. The folk remedy saved Young-hee's life and she was eventually adopted internationally.
Another child, Hyun-goon, was diagnosed with attention deficit hypersensitivity disease (ADHD). Hyun-goon had a beautiful singing voice was part of a children's choir. At a Holt Party at age 20, Cho remembers him singing a well-known song You are Born to be Loved.
Another boy, Young-soo was treated at the hospital for cerebral palsy. The story was that Young-soo was left in the care of his father and grandparents.  After that, his father left Young-soo at a friend's house, and when no one came for him after a month, the friend brought Young-soo to the orphanage.  The boy was eventually adopted in the U.S., went to college, and medical school, and returned to Korea as an adult.
Cho assisted Young-soo in locating his parents. His father was still alive and remarried, with two sons, but declined to meet him, citing shame about the past that he would have to admit to his new family. After hearing the rejection, Young-soo said, "I am okay since I know he heard my news.  That's good enough."
Cho also recalls Tae-hee, a baby born in 1965 with a congenital heart defect, around the time Cho became the chief pediatrician at Seoul City Children's Hospital.  Only surgery could save her, but Korea did not have a specialist with that skill. Tae-hee was adopted to the U.S. and had the surgery there, with Cho escorting the sick child.  However, a month later, Tae-hee died.
Reunions
The author relates one story of four siblings reunited after 20 years.  In summer of 2001, three siblings from three different areas of South Korea, two men and a woman (Ok-sim), got together in a Seoul hotel to reunite with their youngest sister, Missy.  Dr. Cho first knew of Missy in 1990. 
Just as Cho was to leave for a three-week training at Boston Children's Hospital, she received a call from Susan Cox of Holt International Children's Services in Oregon.  Cho was invited to stay with a family in Boston, who had both a boy and a girl from Korea. The girl was Missy, who was in middle school.  She would go on to graduate from college, and work at the public relations office of Harvard's Theology Department.
Cho, with help from the Holt organization, found one of Missy's uncles in Seoul, and the uncle agreed to contact the three siblings.  Six months passed before the sister Ok-sim called with a proposal to meet.
The two Susans: Susan Brink and Susan SoonKeum Cox
The landmark adoption movie, Susan Brink's Arirang, ends in happiness, but Susan's real life was a not happy one.  Adopted to Sweden in 1965 when she was three, Susan Brink had a painful childhood and adolescence.  She suffered from abuse, racism, and a severe identity crisis.  She became a single mother at age 18, and attempted suicide twice.  She longed for her motherland, and in 1989, she found her birth mother.  Susan's lonely life ended at a young age.
Cho also relates her memories of another Susan – Susan Cox.  Cox (Korean name Soon-keum) grew up at the Incheon Orphanage until she was age five, and was the 167th child placed for international adoption. She grew up in Oregon, and was the first Korean adoptee to serve on the Holt Board.  Cho's relationship with Cox started after Cox was hired as a Holt staff member to assist in programming for adult adoptees.  Because of her years of advocacy, Cox was appointed to the Hague Special Commission to work on the Hague Treaty on Intercountry Adoption. 
Cox was also one the architects of the first Korean adoptee national conference, The Gathering, held in Washington, DC in 1999.  The Gathering became a milestone social event that initiated other adoptee events, including the Seoul Gatherings.
Special Volunteers over 50 Years.
Cho also writes about some of the volunteers she w over 50 worked with, among them Betsy Guinn, whose father was a missionary to China and Malaysia. A single woman, Guinn adopted 12 children through Holt's programs, most of whom had special needs. She also describes Ulla Dagert, a physician who volunteered for Holt starting in the early '90s and eventually adopted three children and had one birth son. 
The author's tone in this memoir is warm and compassionate, but she never softens the grimmer details. In the current COVID-19 crisis and the war in Ukraine, readers can better identify with the descriptions of a people in grief, a country devastated, and the suffering of a large humanitarian crisis. 
Cho is the recipient of the 2015 Seongcheon Prize, given in South Korea to doctors who have selflessly responded to those in need. Now age 90, Cho lives in Seoul with her daughter, and regularly visits the Molly Holt House on the Holt Ilsan campus. She still works with volunteers, and hosts visitors, including many adoptees with a "Cho" signature on their medical exam documents.