Koreaphile in a niche area of literature translation preserves vintage feel with redesigned English titles | By Heinz Insu Fenkl (Fall 2020 issue)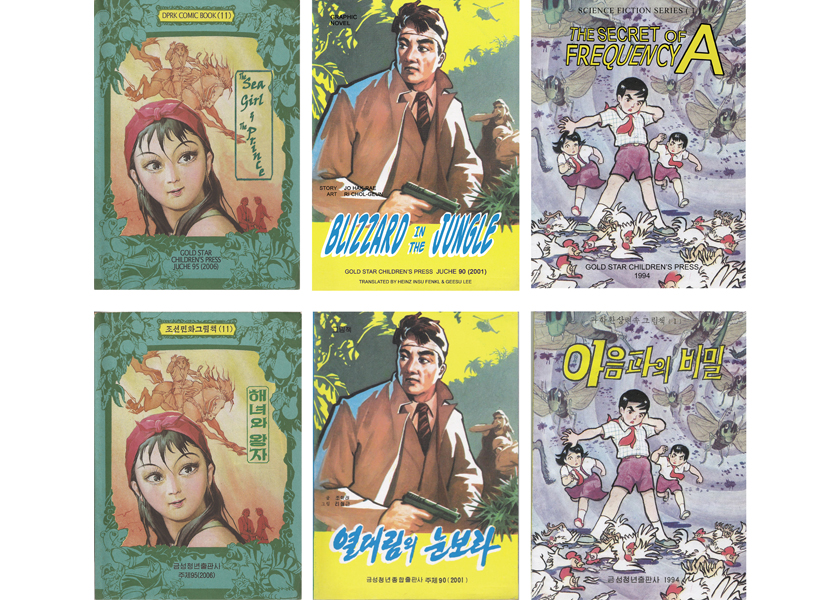 One of the challenges —- and part of the fun —- of translating North Korean comic books is trying to keep the integrity of their covers intact in English. Over the years, my approach has been to keep the original design whenever possible, since it is part of the book's original aesthetic and intention. In the covers pictured here, I've tried to imitate the type treatment and placement to emulate the original. It's not always possible, as you can see, but when it's successful, the English version should feel like no change has been made in either the visual or verbal translation.
Most North Korean comics (some would say all, since they are overseen and published by the state) have propagandistic or political content, and their cover designs often reflect or enhance that underlying function. It's deceptively easy for us to see through the rhetorical function of those covers. I say "deceptively" because, at the same time, we tend to overlook the underlying rhetorical purposes of most American comics, which tend to use sexuality or violence to sell books. We also tend to excuse the colonial themes, racist stereotypes, and the laissez faire capitalist rhetoric of works we consider innocuous and aimed at children —- Uncle Scrooge or Richie Rich, for example. One of the reasons I translate North Korean comics is to gain insight into North Korean culture, but in the process, I often find aspects of American culture illuminated in unexpected ways.
Korean Quarterly has been running Fenkl's translated North Korean comics series for over ten years. We hope to add and upload Crystal Key and The Secret of Frequency A, and other series, to the KQ website soon!